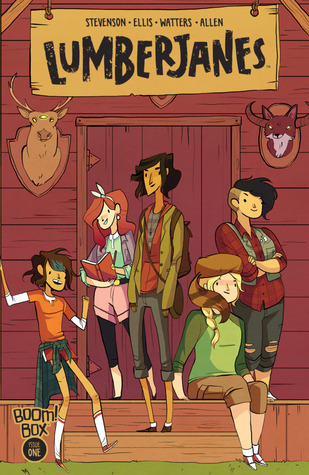 Hello everyone! How has your weekend been going? So, recently I have been into this AMAZING(!!!!!!) graphic novel called the

LumberJanes. It is really good! IT IS REALLY, REALLY GOOD!
It is about these 5 girls named, Mal, Molly, Jo, April and Ripley who go to this summer camp called Miss Qiunzella Thiskwin Penniquiqul Thistle Crumpet's Camp for Hardcore Lady-Types. If that doesn't get you intrigued, NOTHING WILL!
Anyway, I was at my local bookstore today and I found out that there is a LumberJanes #2! I knew I had to get it! So I did! I finished reading it about 45 minutes ago and I loved it!
Get them both REALLY soon, and DO NOT
put them down until you have finished! I MEAN IT!!!!!!!!!
STAY TUNED FOR MORE OF GREEK GIRLS AMAZINGNESS!
~Greek Girl